Applying for Job can be one the most stressful situations one will face in their lifetimes, the interviewing, the waiting, sometimes the testing to land that perfect role and then you get it, the dreaded e-mail. That dreaded e-mail that states so plainly very similar to this one:

Everyone's organization has some variation of this e-mail, some very straight forward, some more direct, depending on who wrote the e-mail. It's very rare you will get anything in the mail in today's day and age, except in cases for government type employment that seems to still be practice but in most cases e-mail.
For those who have received this type of e-mail, it stings none the less, because companies have stopped being personal about the process of hiring due to the number of applicants and has become standard practice.
After receiving this e-mail where do you go from here, how do you recover and move on, may seem like a simple question for many, just move on the right, on to the next company, but for many like myself, it's easy to take it personally.
If you have been on any job interview one of which seems to go really well, where you and the interviewer are getting along, you have just this great feeling and then a day, a week later you get the e-mail comes like sneak attack in your e-mail, sometimes appearing like junk mail until you open it.
The feelings I felt when opening those e-mails are simply I was not good enough, because frankly there is no explanation as to why the company did not move forward, which is what leaves many wondering what I do wrong?, Was it something I said? Leaving us confused and sometimes hurt by the whole process especially if you waited for weeks to know.
Know that is an area in organizations need to work on and many companies don't need to tell the candidate what they liked and didn't like giving us closure.
Where do you go from here, there are a few ways to get you to point of moving on and not taking it personal but know there is the perfect role for you.
Give yourself (Limited) Time to Grieve
It's perfectly natural to feel bummed that you didn't get the job, and give yourself some time. Whether that means binge-watching your favorite show or eating a whole tub of rocky road, one may give you a stomach, so fair warning.
Just make sure you keep it brief, because there is really no need to give power to a company that so quickly has moved on you, so don't give them that power over your mind. Pick yourself up and know this will not be the last rejection letter in your lifetime.
Send a Thank-You Note … to help you with closure and to leave doors open.
Many times, the candidate the company chooses to be a real toad and not exactly what they were looking for so they come knocking on your door. By sending a thank you note, you show them to appreciate their time and even though you were not chosen if positions open up they will consider sans an interview may next time.
I have personally had this happen, I was rejected and month's later human resources contacted me wanting to give me the opportunity, at that point, I had already found another position, but thanked them and moved on. How you respond can make all the difference, leaving doors open in the future.
In the thank-you e-mail don't fake enthusiasm, but do the following:
Thank the hiring manager for his or her time and consideration.
Explain that you appreciated the opportunity to learn
Expressed your continued interest
Respectfully ask the manager to contact you if something opens up.
Self-evaluate yourself and evaluate the situation
Once the initial shock of being rejected is gone and their anger or sadness has subsided, take a step back and take a look in their mirror on how you can improve and at times when we do that, the rejection we received could have been rightfully so. For instance, maybe there are areas that we would need to work on or improve, such as our communication skills, or maybe we need to work on our soft skills
Not only do you need to consider the value of the lost opportunity, but you need to evaluate your approach to the process. Is there something you could have done differently?
Like targeting your resume more specifically to the position or extra time prepping for the interview, which is key to getting a position. Is your social media presence an asset or distractor? Due to many employers looking at your social media to get a better idea to who you are personally.
Don't take it personally
We have to remember that getting a job is a business transaction, your services for pay, and remember that job rejection has nothing to do with you. Hiring managers are often under tons of pressure and stress to get a job filled and many times there many applicants to choose from.
Many times hiring managers choose to hire from within, or a friend of theirs, so that is why it's important to keep perspective. Accept the fact that you may never know why and I believe that is what causes the most frustration not knowing.
How to ask for feedback after a rejection
Knowing why is so key to our growth and knowing how we can do better next time, if this is something you need to know, here are some ways to ask for feedback:
Thank them for following up to tell you about their decision
Explain that you're always trying to improve yourself in your job search
Ask if there was a piece of experience that they felt was lacking or something you could do to present yourself better as a candidate.
If you are sending an e-mail, end the email by thanking them again for their time and telling them you appreciate their feedback.
If you are on the phone, pause after asking and wait for them to respond. If they provide feedback, listen closely to what they said and make a note.
If they don't share anything after this, it's very unlikely you're going to get feedback, I'd recommend moving on.
What not to do when asking for feedback
Don't sound bitter or upset at the start of the call or email.
Don't try to change their mind
Don't act desperate or beg
Don't push back on the feedback they give you.
Leave the Door Open
Never Give Up!
The pursuit of a job can be exhausting processing from applying to interviewing to waiting for a response; your nerves will be on edge of anticipation to see if you got the job and many times your dream job. Don't get this discouraged and know you are in a like company of those going this every day. Continue to push forward and keep applying and soon you will see those companies that are perfectly aligned to the type of candidate you are.
Be patient, your next opportunity will be on its way and remember what the great Alexander Graham once said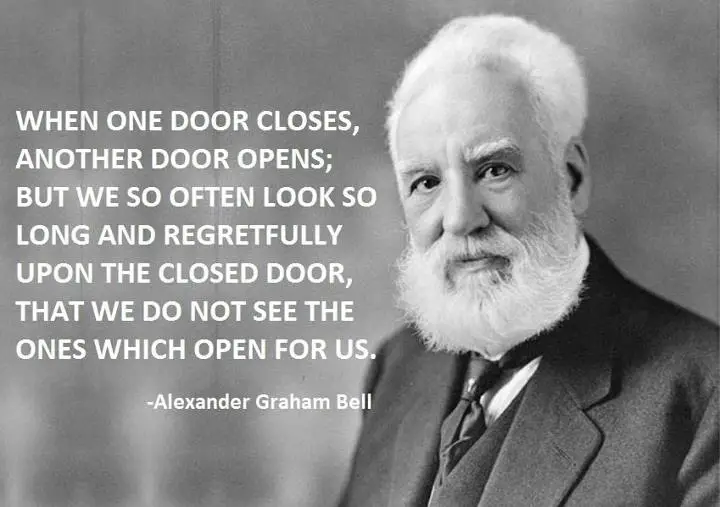 After reading this you may say to yourself, well I am already doing some of these things, but I have found that it takes practice and self-control to react to rejection. In sense, we should remember that we always want to self-reflect how we can improve in our approach to feedback. All too many times others like to argue over the feedback feeling cheated over not getting the job and sometimes the job will be a great position you really wanted. Give yourself on slack as to getting that job and continue to work on you, reflecting a better you each time.
Lastly, getting rejected is not a failure, you have not a failure, those who interview us fail to see the value in you and many times they are looking for someone else even before you walk in the door.