Where it All Begin
Throughout my life from a wee lad I have always been someone who felt I had no value in this life as I grew up with a mother, father, sibling, aunts and uncles the whole nine yards. But early in my childhood after Mom and dad divorced and we moved in with my grandfather it was never the same. I admire my mom for trying to keep us safe, feed and clothed but in my opinion, she made a serious miscalculation on this arrangement.
You see my mother who was not a single mom with two kids at the time didn't have a lot of financial prospects and career for that matter, so she found a way once again for us to survive. My father was necessarily a bad father, he didn't abuse us or anything, but I feel he just wasn't ready to be a father and it showed because it was like pulling teeth to get him to spend time with us as a family.
The life change that changed it all for me
Once we moved in with my grandfather, a man my mother had loss contact with for many years because he was not in the picture was a man to be reckoned with was a harsh disciplinarian who acted as if he was my father with his harsh words of put downs on a daily basis. This was starting around the age of five mind you and we lived with him until my sister and I moved out, but mom stayed behind.
The damage was surely done after close to fifteen years of his insults, put downs and vulgarities took a toll on my mental health and ultimately my self-worth. Add to that that I was the overweight kid most of life, pudgy and cute but still overweight and if any of you know what that's like, teases, bullying, taunts is not a very help physical attribute when your questioning your self-worth.
The struggled continued
Late in my teens I did seek counselors to help me through that pain and until late twenties when I still struggled which was at its worse, but those feelings never went away, to this day I still feel somewhat worthless as a human being, as a father, husband, employee and the list goes on. This is not meant to be a whah whah whah poor me, but in hopes as an example of what not do to yourself.
Throughout my childhood I was always told by gramps that I was not good enough, stupid and would ever amount to anything. Although mom stepped in most of the time, she could not always be around all hours of the day. I was also house slave to labor required not to do your typical chores but hard labor around the house and then once I got my driving license, I was then his chauffer to wherever he needed to go which in most cases was his beer run and to the market.  Because of my age and dependance on him and the family.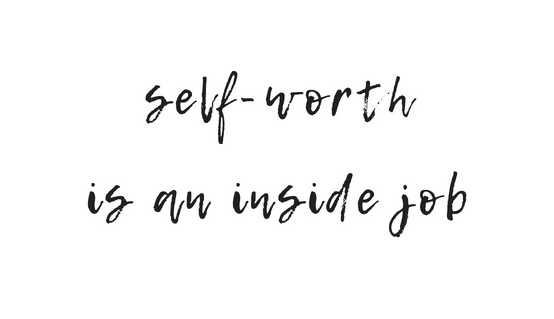 Once finally leaving home the damage had been well done, now in my twenties I self-destructed not into drugs or alcohol but deep depression which came to blows in February 2007 when I almost lost my life. Picking myself up once again trying to find some hope in my life and really picking up the pieces of how I got to that point tried to seek the positive things in my life, but in honestly, I didn't see it. From the outside one would think why I felt this way when I had more than more, a bachelors and master's in business, unemployed at the time, family who loved me but it just was not enough.
My realization of Value
I wanted to feel a sense of value, never realizing at that point that people cannot give me value I would have to seek that myself and realize that I as a human being was not more or less valuable than the next person, but and there is but. But one of the areas I have always focused on is success, such as success of myself and making constant comparisons to others, to this day I still do that.
I look at someone younger and ever my own age and see these incredibly gifted talented individuals and I can only think well they definitely are more valuable than me, I mean even look at their net worth. As you see I make constant comparisons which are self-defeating because I know deep down those feelings will NEVER help me but being a glutton for punishment continues.
Learning to Love and Appreciate yourself
Over the years I have learned to love myself more and to appreciate this point in my life and that this is where I am today, working, teaching, writing, family man, father, husband and the list goes on. I am not rich or poor although being poor is not a negative personal quality as most my childhood and adulthood I have been poor in spirit, in money and wealth but that's ok because I figured we all have a way to make ourselves better if we remember one thing, we do have value, self-worth and that we can set our mind to those things that can make us better people.
Tips to get your started
But here are some simple tips that can help all of remember our self-worth:
Rewrite your core beliefs
This is where you shall begin by slowly changing your mind set and recreate your personal mantra. Remember that new mantra, repeated it over and over again giving you the focus to retrain your thought process.
Reclaim what was been repressed
Take back your power and work to discover those areas in your life where you feel powerless and work towards challenging yourself to improving those areas in your life.
Replace people-pleasing with self-care
Being a people pleaser is not the answer to getting the affirmation of your self-worth, but to change our mindset not to put so much weight on what others think of us but make sure we are ones deciding what we want to put value in for ourselves.
Journal
Writing is another that I found great self-discovery into areas that I do have value and worth and physically seeing it in black and white will allow us to realize that we actually do have great value.
The reframing of your mind and Beyond
Self-worth takes time to retrain our minds from all of those in our life who may have caused the damage over the years like myself, but it is possible. The benefits of knowing your value definitely outweigh the negatives and if this is how you feel then today should be the day that you take back your power and realize your self-worth because you do have value whether you see it or not.
By realizing your self-worth, you will be more confident, making wiser decisions, improve the quality of your life and learn to remove those toxic things and people out of your life.  It will be a work in progress, but it can be done, just look at me I work each day to push out those toxic thoughts, reframe my thinking and move forward and so can you.